Visit Edgartown Beaches on Martha's Vineyard
One of the two original towns on Martha's Vineyard, Edgartown became a primary port for the 1800's whaling industry. The industry brought ships and captains from around the world to Edgartown, many of whom built impressive mansions overlooking the harbor. These mansions remain and add to the town's stylish charm. The beaches of Edgartown include a few of Martha's Vineyard's most popular destinations, and for good reason!
Bend-in-the Road Beach (also known as Joseph Sylvia State Beach)
Two miles of white sand beaches, calm, shallow water and free, public parking make this North Shore beach popular with families visiting Martha's Vineyard. If you're looking for ocean activities, Bend-in-the-Road Beach is a great option for kiteboarding and windsurfing. Lifeguards are on duty at the Bend-in-the-Road section of beach only. As a fun fact, this beach was the setting for most of the movie "Jaws."
East Beach (Cape Pogue Wildlife Refuge and Wasque Reservation)
One of our favorite Martha's Vineyard beaches, East Beach is located on Chappaquiddick Island and extends from Wasque Point to the Gut. Aside from 7 miles of pristine shoreline, the area encompasses salt marshes, a cedar grove, dunes and a lighthouse. The area is also rich with wildlife and has world-renowned fishing spots and many marine bird nests.
Fuller Street Beach
A public beach located along Edgartown's Outer Harbor on the North Shore, Fuller Street Beach is a popular destination for families with young kids thanks to its sandy shores and warm, calm water. There is no parking for this beach, but it has easy walking access for those living or renting in Edgartown.
Lighthouse Beach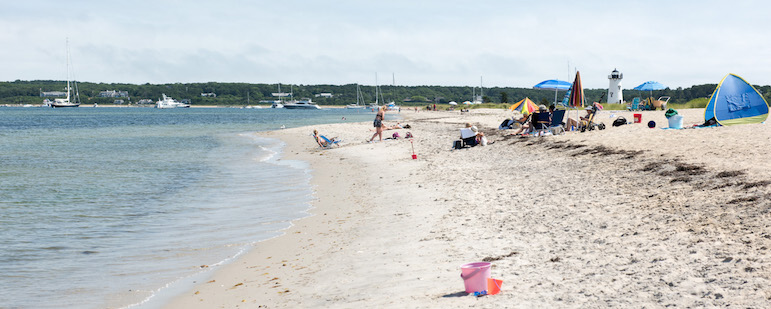 Complete with a classic New England lighthouse standing guard in the sand, this beach is located close to town and overlooks Outer Harbor toward Chappaquiddick Island. Located on the North Shore off of North Water Street, Lighthouse Beach is prime walking distance for those who own or rent in this area of the village. On-street parking is only available in the surrounding area.
South Beach (also known as Katama Beach)
Named to Travel & Leisure magazine's "One of the World's Best Beaches" list, South Beach is one of Martha's Vineyard's most popular beach destinations. This is a public beach located at the end of the island in Katama. South Beach's shoreline features three miles of Barrier Reef, a soft, rolling surf and pull-up parking, some of which is only accessible by vehicles with permits. Life guards are on duty in season.