Visit the Martha's Vineyard Beaches of West Tisbury
Historically, West Tisbury was the agricultural heartland of Martha's Vineyard. Today, it still boasts bountiful greenery and several wildlife refuges and reservations around town. The beautiful beaches of West Tisbury perpetuate the town's earthy allure.
Lambert's Cove Beach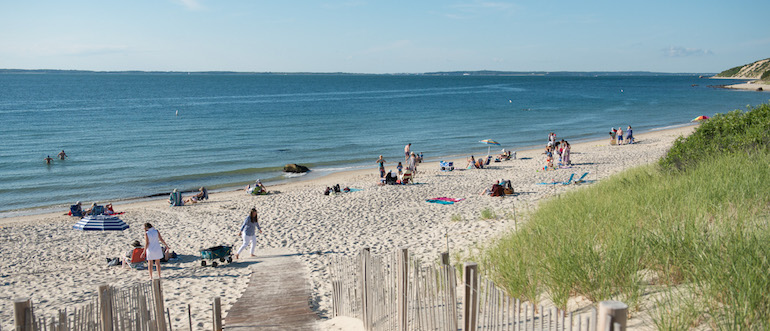 This North Shore beach features white sand, calm water, and a gorgeous view overlooking the Elizabeth Islands. Reserved for owners and renters, parking permits or walk-on passes are required. It is only about a 5 to 8 minute walk from the lot to the beach.
Long Point Beach
This pristine beach is part of Long Point Wildlife Refuge, a 600-acre area comprised of beach, dune and woodland that features over 2 miles of trails. Run by the Trustees of the Reservation, Long Point Beach includes both pond and South Shore swimming. There is a daily or weekly access charge. Parking is limited and fills up quickly during July and August months. Access via Waldron's Bottom Rd., a 2 mile well maintained dirt road. In the off-season, Long Point Wildlife Refuge is a bird watcher's paradise