Chilmark is among Martha's Vineyard's Best Kept Secrets
Just south of Cape Cod, Martha's Vineyard has long been known for its vibrant summer vacation scene - filled with promises of white sand beaches, beautiful sunsets and harborfront dining with fresh local fish. 
 
Among Martha's Vineyard's best kept secrets is the serene community of Chilmark, with private beaches and breathtaking views set in a rustic atmosphere. 
 
Nestled between the Menemsha coastline and Lucy Vincent Beach, Chilmark provides an unforgettable experience that has visitors returning year after year.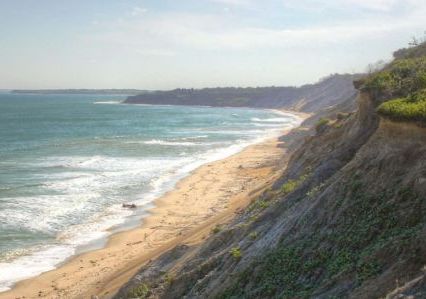 Two of the most outstanding vacation rental properties in the eastern part of Chilmark are in close proximity to attractions such as the Aquinnah Cliff formations, the historic Gay Head lighthouse, and Chilmark Chocolates. Both of these properties boast access to the privately held Hancock Beach. 
Property Highlights: private beach access, three-season porch, wine chiller, patio, outdoor shower
This newly-renovated 1713 Mayhew farmhouse is a wonder of contemporary-rustic living. Complete with 5 beds and 3.5 baths, the farmhouse rests on expansive grassy grounds set back behind ancient Chilmark stonewalls.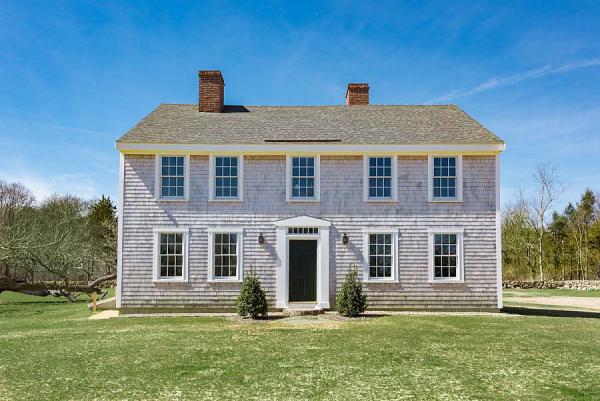 Renovations in 2017 were conducted thoughtfully, bridging modern living and historic farmhouse finishes to create an authentic experience. Two master bedrooms, each on separate levels and with their own reasons to be admired, allow for privacy during family getaways. 
The first floor master suite features a fireplace and opens to the bluestone patio outside via french doors. The second floor master offers an en suite marble and tile bath, walk-in closet and king bed.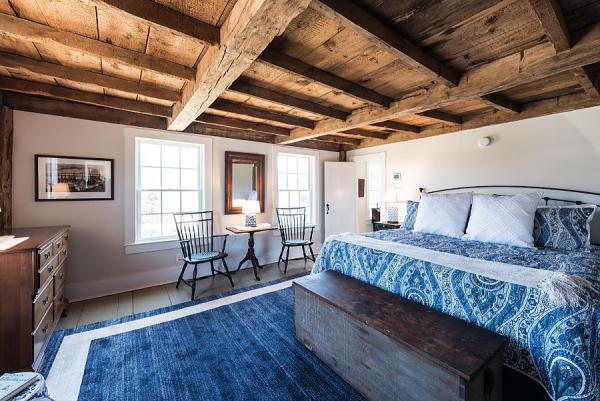 A main kitchen and chef's kitchen are both outfitted with stainless steel appliances and a farmer's dining table seats 10 with additional seating by the fireplace. Pair dinners with a glass of wine chilled to perfection from the wine cooler for an evening to remember.
A beautiful three-seasons porch furnished with a cozy sectional sofa provides the perfect setting for reading or conversation. Wrap-around windows offer great views of the expansive backyard and bluestone patio, which are accessible from the porch.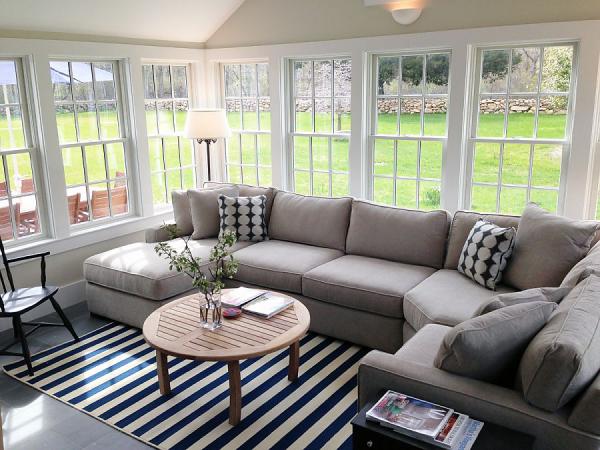 The back patio features a grill and plenty of seating at a teak dining table with a market umbrella. Lounge chairs are available for sunbathing and the private outdoor shower is perfect after a day at the beach.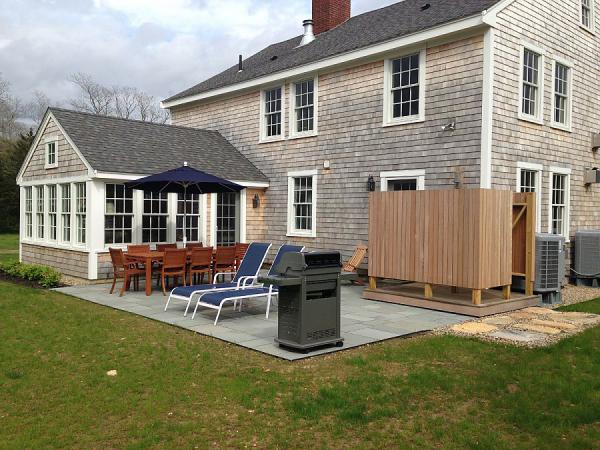 A stay at this quiet Chilmark vacation home includes access to the privately-owned Hancock Beach. Association rights to Hancock beach are limited, and provide a welcomed alternative to the bustling public beach scenes. Hancock beach is easily accessed from this rental property by taking a private road just 1.5 miles to the walking path entrance.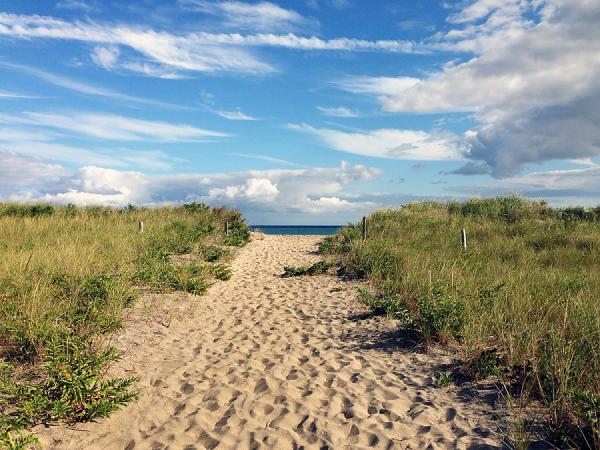 Beach chairs, towels, umbrellas and coolers are all provided for the perfect Hancock Beach experience. Lucy Vincent and Squibnocket, both Chilmark beaches, are also accessible for renters looking for a more lively experience. 
Property Highlights: private beach access, sun porch, rooftop deck, kayaks
Privately situated and surrounded by meadows, this 4 bedroom, 4 bath home provides an excellent opportunity for a relaxing vacation. The property covers 11 acres with spectacular views of Wades Cove and Chilmark Pond.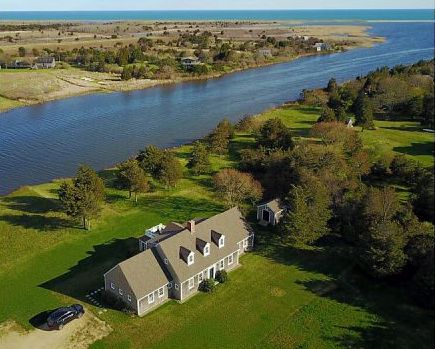 Decorated thoughtfully with soft coastal colors and complemented by vibrant oriental rugs, this vacation rental is a beautiful blend of contemporary and traditional style. Artwork of renowned island artists, featured throughout the house, add to the experience of a rejuvenating getaway at Martha's Vineyard.
Dining and living areas are spacious with abundant natural light. Stainless steel appliances and granite countertops furnish the modern kitchen, leading to the sun porch with gorgeous views of the landscape.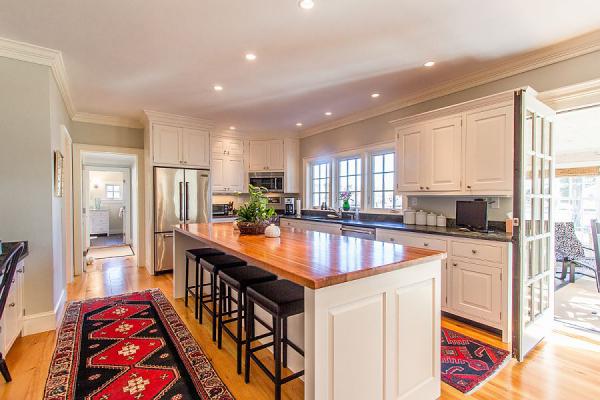 Sunny days can be enjoyed from the rooftop deck out back from the comfort of Adirondack chairs. The deck overlooks the expansive yard and is a wonderful spot to watch vessels float by in Wades Cove.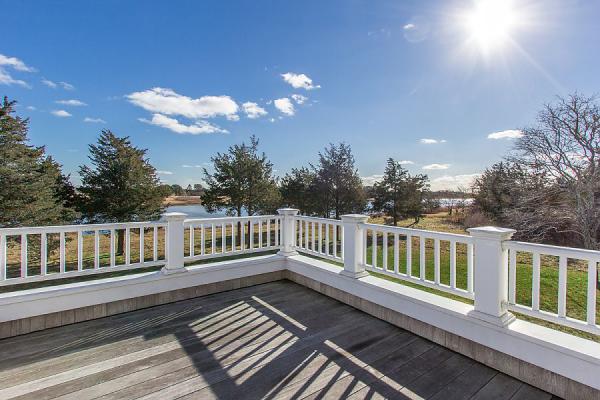 2 kayaks are available for use to navigate the beautiful, unspoiled environment of Chilmark Pond. Private access to Hancock Beach is just one mile from this stately property and can even be accessed by kayak or skiff rental.