When in Martha's Vineyard... taste all of the delicious lobster-based treats you can! It seems like every shop you go into there's a speciality dish calling for you - lobster bisque, lobster mac & cheese, there's even lobster ice cream. You can say our island loves lobster like Bubba Gump loves shrimp. 
A lobster-must on Martha's Vineyard is the lobster roll. With an excellent selection of local restaurants putting lobster rolls on their menu, having the best in town is tough competition. We're here to help you narrow down the list with our top 7 picks for best lobster roll on Martha's Vineyard.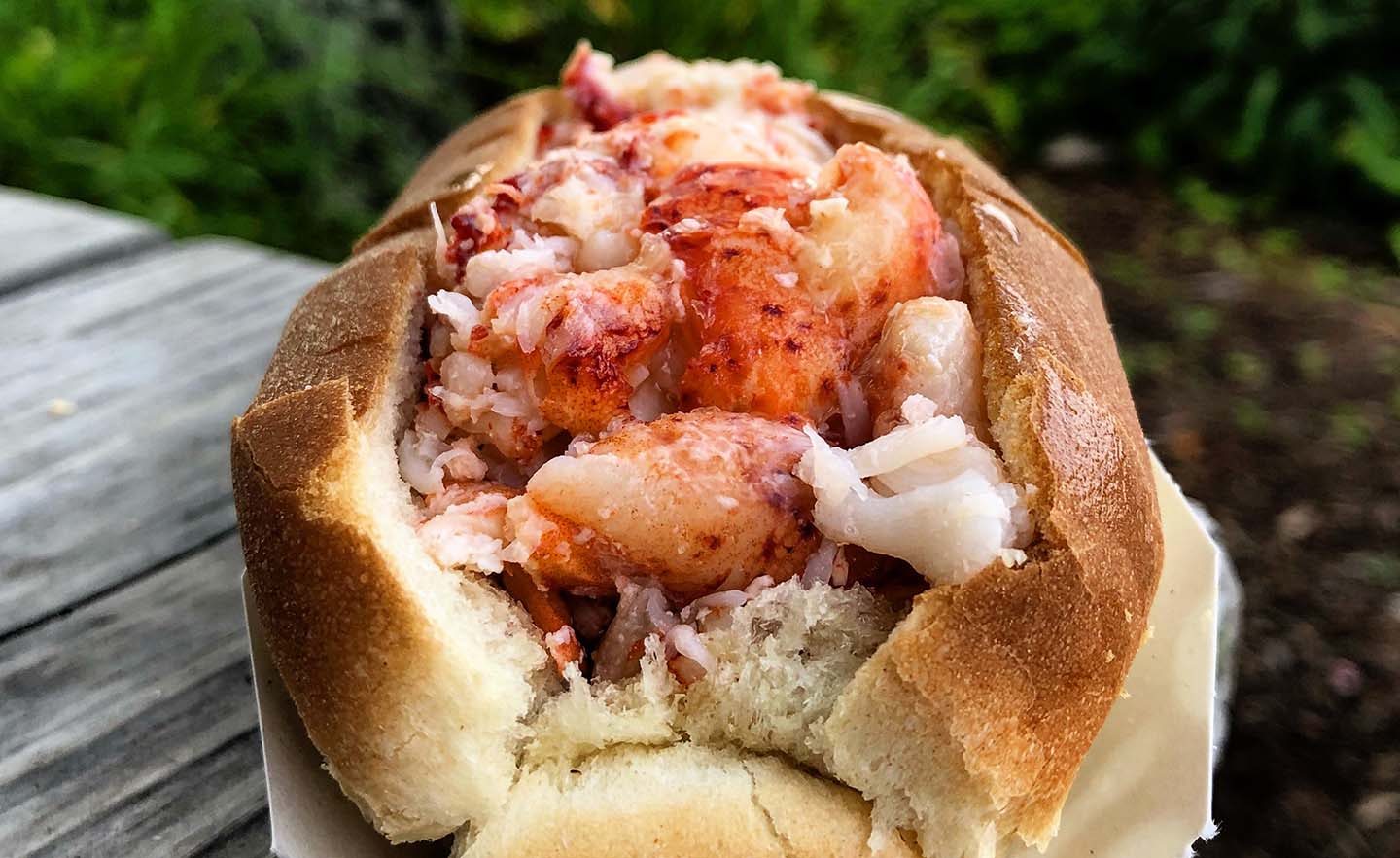 A Lobster Roll from The Net Result in Vineyard Haven. Photo credit: Olivia Arnold @Foodistagirl
Lucky Hank's is a casual nook in Edgartown, near Chappaquiddick Island. They serve up locally sourced food, beer, and a phenomenal lobster roll. The foundation of a lobster roll is fresh meat, and Lucky Hank's is in the perfect location to provide that. Compliment the fresh lobster with herb mayo and put it on a grilled New England style bun, and it's no wonder they're on our list for the best lobster roll on Martha's Vineyard. If you're in the mood for more lobster, you have to try their Lobster Deviled Eggs made from island eggs. 
If you're looking for a view with your lobster roll, try Nancy's Restaurant. Nancy's is situated right on Oak Bluffs Harbor and offers a great outdoor patio to enjoy your meal on. Their lobster roll is comprised of fresh lobster meat with mayo on a toasted and buttered split-top roll. It may sound simple compared to other lobster rolls with unique mayos and spices, but there's something magical about a classic lobster roll done really, really well.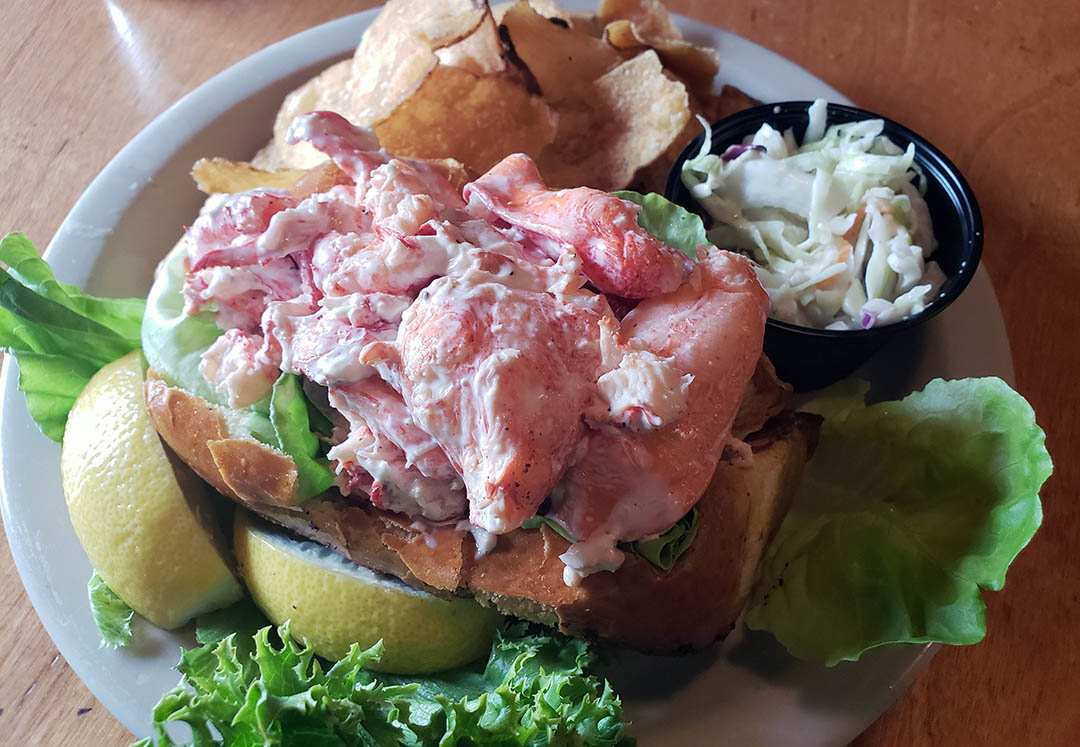 Just across the way from Nancy's Restaurant, you'll find a brew pub with a fun atmosphere and a top notch lobster roll. The Offshore Ale Company offers craft beer, wood fired pizzas, and a lobster roll with a very generous portion of fresh lobster meat. The Offshore Ale Company serves their lobster on a lightly grilled roll with just the right amount of mayo. If you're feeling dangerous, ask them to sautee the lobster with hot butter before serving it to you. 
Okay, we'll admit it - we love Oak Bluffs for lobster Rolls. Martha's Vineyard Chowder Company is infamous for its soup, which pairs perfectly with their lobster roll. You might need to split this meal with a friend (though we won't blame you if you want to keep it all to yourself). A half pound of warm, buttered lobster is served on a grilled brioche bun and topped with bacon, parsley, preserved lemon and a generous portion of fries. The lobster roll is only available on their lunch menu, so be sure to make your way over by mid-day. 
We promise this is the last Oak Bluffs restaurant on the list. If you're with a group of lobster lovers, we challenge you to do the Oak Bluffs tour - sampling each lobster roll on our list! Our final Oak Bluffs restaurant, Lookout Tavern, has been voted Best of the Vineyard for several years running. There are two options for the lobster roll, and each comes on a grilled and buttered brioche roll. The Tavern Lobster Roll offers chunks of claw and knuckle meat with mayo, while the Sauteed Lobster Roll offers sweet lobster meat that has been sauteed in butter. 
Larsen's Fish Market, situated right off the Menemsha Basin, has been serving up the freshest local fish in Martha's Vineyard since 1969. Larsen's mostly offers whole seafood to-go, but they also have a small take-out menu with smoked fish spreads, bisques and sandwiches. The Lobster Roll from Larsen's Fish Market is one of Martha's Vineyards best kept secrets. We recommend pairing your lobster roll with a seaweed salad and walking down by the Basin to enjoy a picnic-style lunch.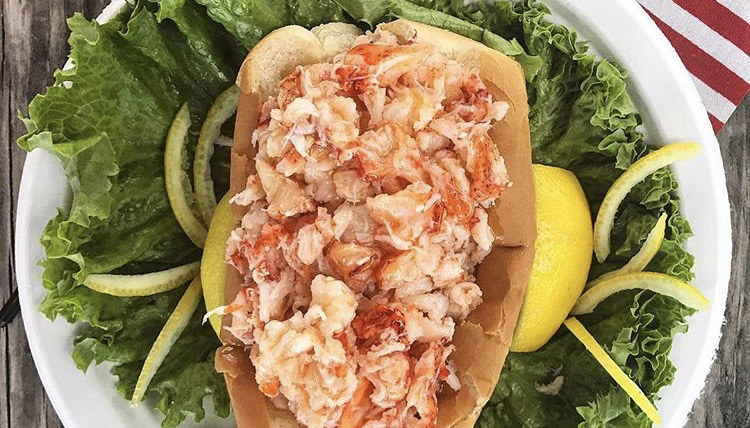 Buttered Lobster Roll from The Net Result in Vineyard Haven. Photo credit: Olivia Arnold @Foodistagirl
The Net Result is another take-out joint on our list, and our final pick for best lobster rolls on Martha's Vineyard. You can expect the best in New England Seafood at The Net Result, which has outdoor picnic tables for you to enjoy your meal at. The Net Result is in Vineyard Haven at the Tisbury Market Place. They have a pretty extensive menu of take-out items, and their lobster roll will not disappoint. You can choose between the classic lobster salad roll with lobster, mayo and celery, and the lobster meat roll with melted butter. Each roll comes with a generous quarter pound of lobster meat. The Net Result prepares their lobster rolls in a very classic style, putting the emphasis on the fresh lobster meat. 
Still Hungry?
Honestly, the food is so good here it's hard to stop eating. Once you've sampled some lobster rolls from our list above, check out our guide to Vineyard restaurants to plan your next meal.