Edgartown is situated on the charming Eastern corner of one of New England's most idyllic destinations: the island of Martha's Vineyard. This historic whaling town is dotted with gorgeous Greek Revival 18th Century homes and buildings that provide a view into a bygone way of American life. Beyond perusing this historic district, dining, activities, and attractions abound.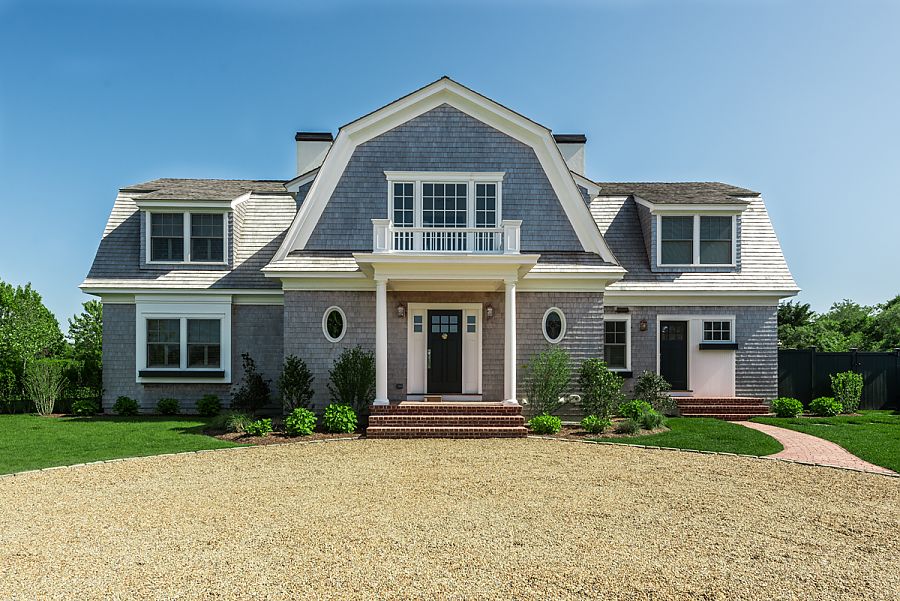 Here are some locally curated tips to experience the perfect Edgartown day: start with coffee at Behind the Bookstore, spend some time at the Martha's Vineyard Museum, followed by lunch at the Lighthouse Grill in the Harborview Hotel. Next, rent bikes from RW Cutler and cruise to the family-friendly Fuller Street Beach. Rendezvous for pre-dinner drinks at the Port Hunter before heading to Détente for dinner. Reservations recommended.
Whether you're traveling with the extended family or you're seeking unique homes you can only experience on Martha's Vineyard, the featured homes below provide an incredible homebase for your Edgartown vacation. You can walk or bike to an incredible array of local sights, activities and attractions.
Large Luxury Edgartown Homes for Groups and Families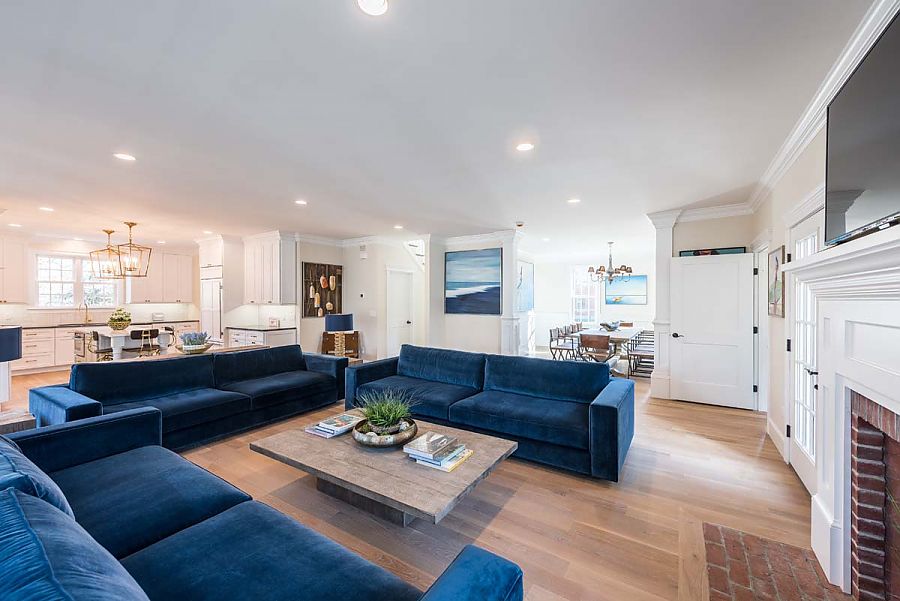 Cast4, a beautiful new home off of Upper Main St., was designed for entertaining, and its 12-seat living room, 10-seat dining-room table, spacious outdoor patio and large swimming pool (heated to 81°F) are testament. This home sleeps up to 14 in its five well-appointed bathrooms and five bathrooms, and puts a large group or family within walking distance to downtown Edgartown. South Beach and State Beach each just a short drive from the house.
In addition to the dining room, living room and fully equipped kitchen, complete with Viking and Sub-Zero®  appliances, the first floor features the first master with King en-suite is located in one wing. The other wing is where the second bedroom with queen over queen bunk beds is situated. 
The second level features three additional three bedrooms, each en-suite. The first room includes two king beds and large bath with step in shower and soaking tub. Two more bedrooms with king beds and private baths are found on the second level.
In-town Edgartown Vacation Homes with Pools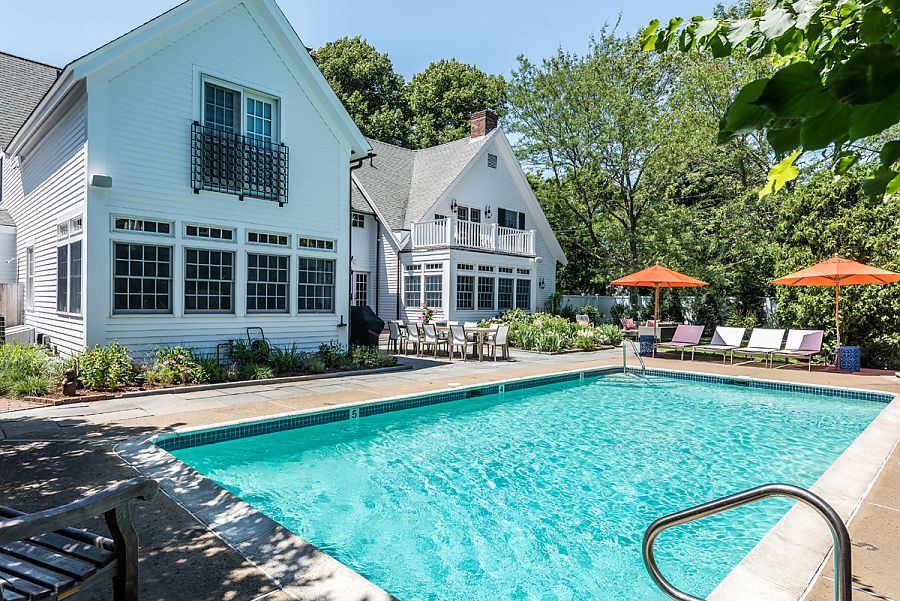 This stunning luxury home, Yased, which sleeps up to 10, has recently underwent extensive outdoor renovations, including a new pool and integrated bluestone patio as well as landscaping. The interior features contemporary coastal decor and spacious shared rooms. 
While the restaurants are just a short walk away, the fully equipped chef's kitchen makes dining in a joy, especially with a 10-seat dining table. The kitchen features double ovens, stainless commercial gas cooktop, temperature-controlled wine cabinet and a Sub-Zero® refrigerator.
The first floor guest room includes a full ensuite rain-shower bath. The second floor, accessed by a beautiful set of stairs, features four bedrooms, all with en-suite bath suites. The master bedroom features a large Roman tub, perfect for soaking, and a private balcony overlooking town. One of the bedroom's offers two twin beds, while the other features a pair of queens. The last bedroom on the second floor has a king-sized bed. 
The charming carriage house houses the sixth bedroom and offers a king bed and a private entrance to the pool.
Stay in Edgartown's Poshest Neighborhood: Katama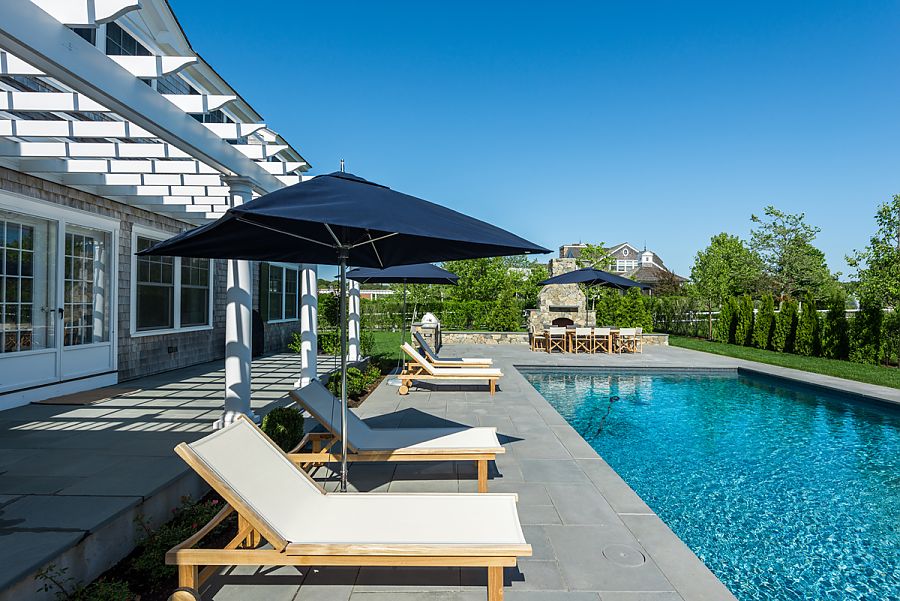 Perfectly located between the main Edgartown village and South Beach, the new Katama neighborhood has quickly become one of the most sought-after vacation destinations on Martha's Vineyard.
Designed by a prominent Martha's Vineyard architect, Yaegm features are markedly classic New England style. A fully equipped chef's kitchen features top-of-the-line appliances sure to please any gourmet cook in your group or if you hire a private chef for a night or two.
The first floor features two bedrooms with queens, each en-suite. On the second floor, a master bedroom, with soaking tub, shower and spacious double vanity sink is a treat. Two additional guest bedrooms, also located on the second floor, offer a spacious king master en suite and a bunk room. The sixth bedroom is located in the pool house, which features a spacious media area and a private entrance to the pool and bluestone patio. 
Harborfront Edgartown Vacation Homes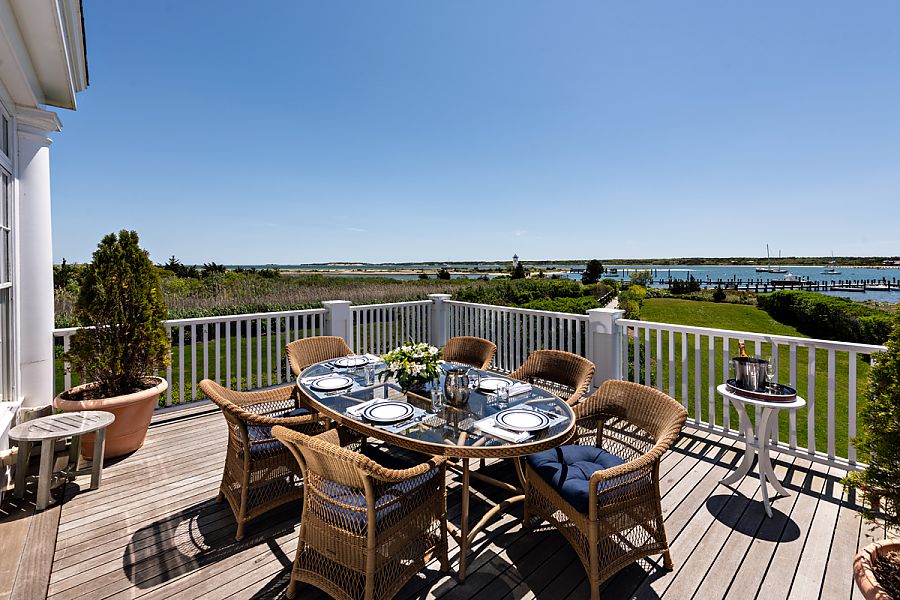 This classic Martha's Vineyard home, Chiub, is an undisputed top option for vacationers looking for ocean views from their home rental. Start your day with breakfast on the deck and look out at the Edgartown harbor and Vineyard Sound, Walk to Lighthouse Beach and Fuller Street Beach.
This two-story home, which accommodates up to eight guests, features an upper and lower deck and three bedrooms. On the first floor is the queen bed, with en suite bathroom, and on the second, is the master bedroom and two sets of bunk beds.