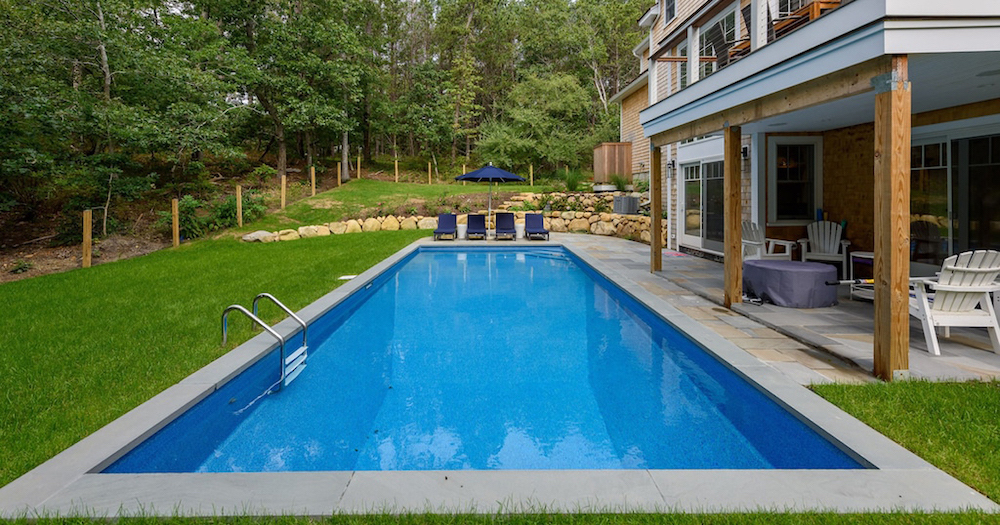 Still searching for those elusive weeks in July & August that are still available? While the season starts to book up in Martha's Vineyard there are still choice weeks available to make a getaway from the hustle-and-bustle of everyday life. Whether you're looking for a large home to bring a group of friends or you'd prefer something more intimate to enjoy time with the family, you can still find that perfect vacation rental for your dream trip. 
While it's still not too late for those July & August dates, don't forget about the shoulder season as well with some of the nicest weather each year. June & September vacation rentals come at steeply discounted rates, with less crowds on the beach, and businesses still open. Browse through these vacation rentals with availability to kickstart your planning and book today to join us for the warm, summer months. 
Property ID: CARLP
DISTINCTIVE LUXURY VILLAGE CENTER, HEATED POOL, 3 MINUTE WALK TO MAIN STREET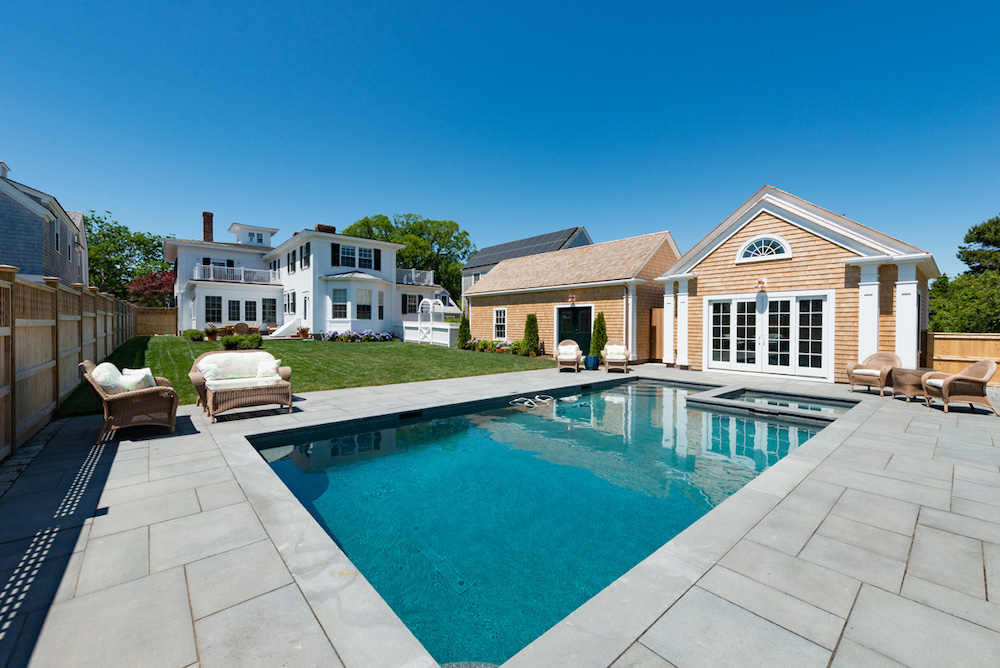 Find the ultimate relaxation and retreat at this stately home with a 16' x 32' heated pool as your centerpiece. This expansive home has everything you could ask for in a vacation rental including outdoor entertainment space on the bluestone patio and a pool house equipped with a TV, wet bar, and bath. Inside the home, you'll be treated to restored and renovated features throughout including 6 bedrooms, 4 bathrooms, and enough space to accommodate up to 11 guests. A large chef's kitchen with mahogany coutnertops is the best place to host a dinner party or make new memories as you cook up a homemade meal with your family. One of the greatest perks of this luxury home is the close proximity to restaurants, shops, galleries and harbors while still being located on a quiet street for peace and relaxation.
Featured Amenities:
Private Heated Pool
Patio/Terrace
Gas Grill
High Speed Internet
Wet Bar

Property ID: BROWL
STUNNING TRI-LEVEL HOME, HEATED POOL, BEAUTIFULLY LANDSCAPED, WALK TO ASSOCIATION TENNIS COURTS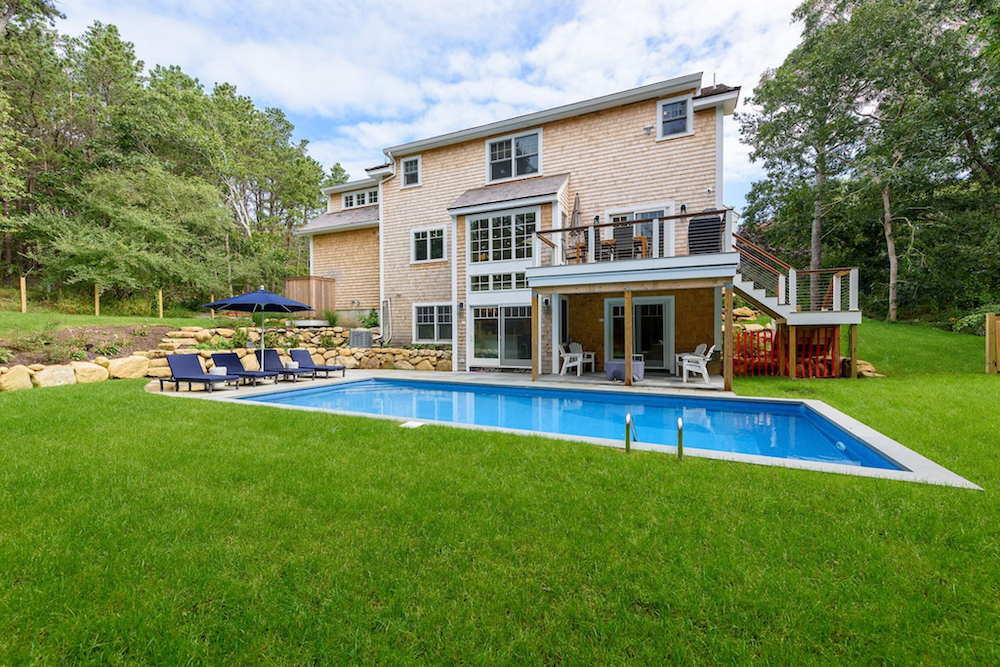 This gorgeous three-level home is located in Hidden Cove which is centrally located between town centers and beaches with plenty of peace and quiet. Enjoy the association tennis courts just a short walk away and easy access to other fun activities on the island. Featuring multiple living spaces, a large patio and pool area, and a media room with bar, there are plenty of places to spread out and relax. 4 bedrooms and 4.5 bathrooms can accommodate up to 8 people and the chef's kitchen features a large prep island so there is plenty of room to get everyone involved in cooking a meal together. Enjoy TVs, high speed internet, and upgraded amenities throughout the home as you enjoy the best of what Martha's Vineyard has to offer during the warm summer months.
Featured Amenities:
Private, Heated Pool
Patio/Terrace
Media Room with Wet Bar
Washer/Dryer
Gas Grill
Property ID: ROGLM
CONTEMPORARY BEACH HOUSE: NEWLY FURNISHED AND UPDATED, GREAT LOCATION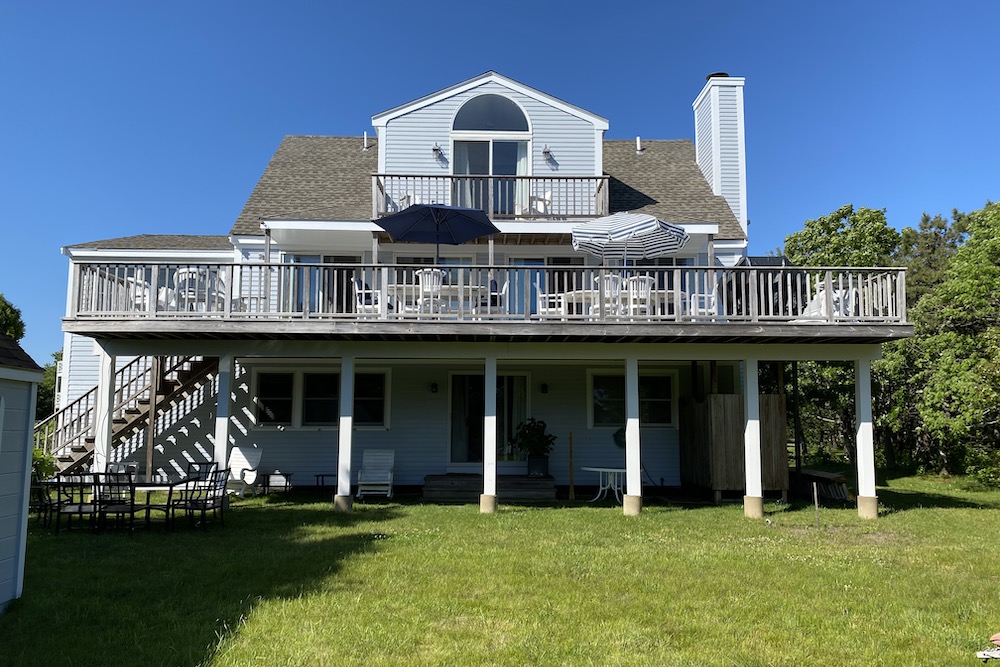 Located less than a mile from South Beach and two miles from Edgartown Center, this beautiful marine-inspired home is the perfect retreat in Martha's Vineyard complete with new furnishings and updates. With 4 bedrooms and 3 bathrooms, there is enough space to accommodate up to 10 guests and many areas to kick back and relax. Enjoy a meal using the BBQ grill on the oversized outdoor deck and play some fun yard games as well with the large lawn area around the home. There are several living areas throughout the home including a large dining table and fully-equipped kitchen. This home has all the comfort you need for your Martha's Vineyard vacation rental and comes at a good price point! 
Featured Amenities:
Large Deck
Gas Grill
TVs and High Speed Internet
Fully Equipped Kitchen
Central Location
Property ID: LANLL
OUTSTANDING WATERFRONT HOME: PANORAMIC VIEWS UP THE LAGOON, 5 BEDROOMS, 4 BATHS, AC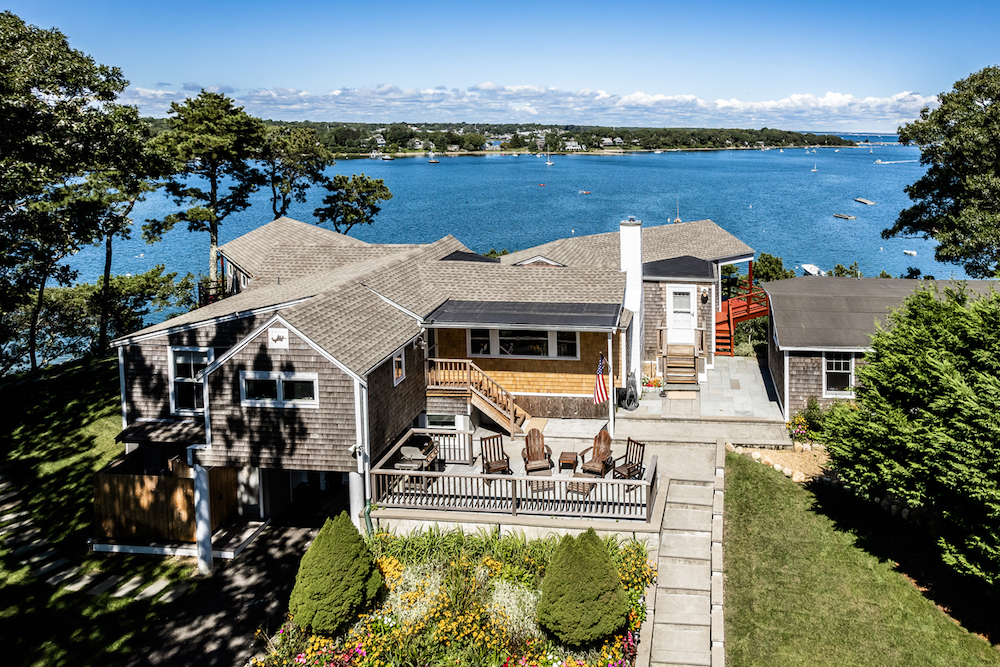 Treat yourself to a getaway in this impressive and expansive waterfront home that sits right on the lagoon. You can't beat the views that you get from this house plus all of the other features that make this home such the perfect vacation rental. With the main house and a guest cottage, there is more than enough room to spread out and enjoy your time on the island. Enjoy the hammock on the property then swim out or kayak to the floating platform just off the house in the lagoon. Inside the home you can enjoy the media room for a fun movie night or cook a meal in the oversized kitchen. When the next morning comes, enjoy your coffee on the deck while overlooking the spectacular views once again. 
Featured Amenities: 
Deck/Patio
Floating Platform
Waterfront Lagoon
Detached Guest Cottage
Outdoor Shower
Property ID: TAYLC
LUXURIOUS HOME: LOCATED IN THE PRESERVE, 18 X 36 HEATED POOL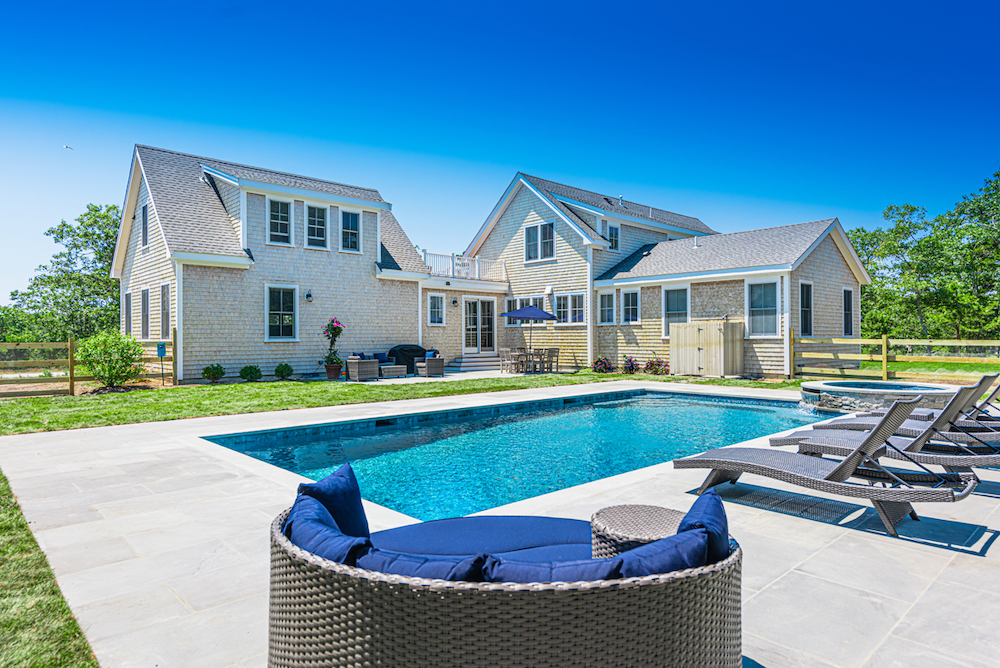 Don't miss your chance to enjoy this new luxurious home centrally located between many communities on Martha's Vineyard. Enjoy an expansive outdoor pool area featuring the heated pool and hot tub with plenty of outdoor seating. The 5 bedrooms and 4 bathrooms can accommodate up to 10 guests and includes open living spaces, chef's kitchen and a sun porch. As impressive as the outside of the home is, it has the interior to match. With open concept living, it's the perfect way to enjoy vacation with your closest friends and family. The large kitchen has plenty of space to gather round as you're cooking up lunch and dinner followed by relaxing in one of the living spaces throughout the home. This is the perfect home for those looking to enjoy the finer side of life on Martha's Vineyard. 
Featured Amenities:
Central Location
Heated Pool & Jacuzzi
Sun Porch
Chef's Kitchen
Gas Grill
Don't Miss Your Chance to Visit Martha's Vineyard this Summer and Book Your Vacation Rental Today
As the town starts to fill up for summer 2022, now is your opportunity to secure that exclusive vacation rental to enjoy your dream getaway. Whether you're looking for a large home for a big group or something more intimate for a smaller family, you can browse through all of our vacation rentals to find one that's perfect for you. Secure your spot and book your vacation rental today!