Martha's Vineyard is idyllic any time of the year, but the summer is when good times really shine here. The picturesque sandy coastline, quaint beach towns, and majestic rolling hills come alive in the glow of a warm summer's day like nowhere else on the East Coast. The pleasant conditions of the summer at Martha's Vineyard bring visitors from far and wide to experience our wonderful scenery and enjoy the many fabulous attractions, dining, and activiites available.
A perfect itinerary is certainly no challege to craft for a summer trip to Martha's Vineyard. However, what truly turns a great trip into dream vacation is finding the perfect place to stay. Here at Martha's Vineyard Vacation Rentals, we believe that some of the finest summer rentals are found in beautiful communities of Edgartown and Oak Bluffs. With everything from classic beachfront cottages to lavish luxury estates, these are some of the finest vacation rentals available for your summer trip to Martha's Vineyard.
Oak Bluffs Summer Vacation Homes
BEAUTIFUL OAK BLUFFS HOME, 20 X 40 HEATED POOL, SCREENED PORCH, MULTIPLE LIVING SPACES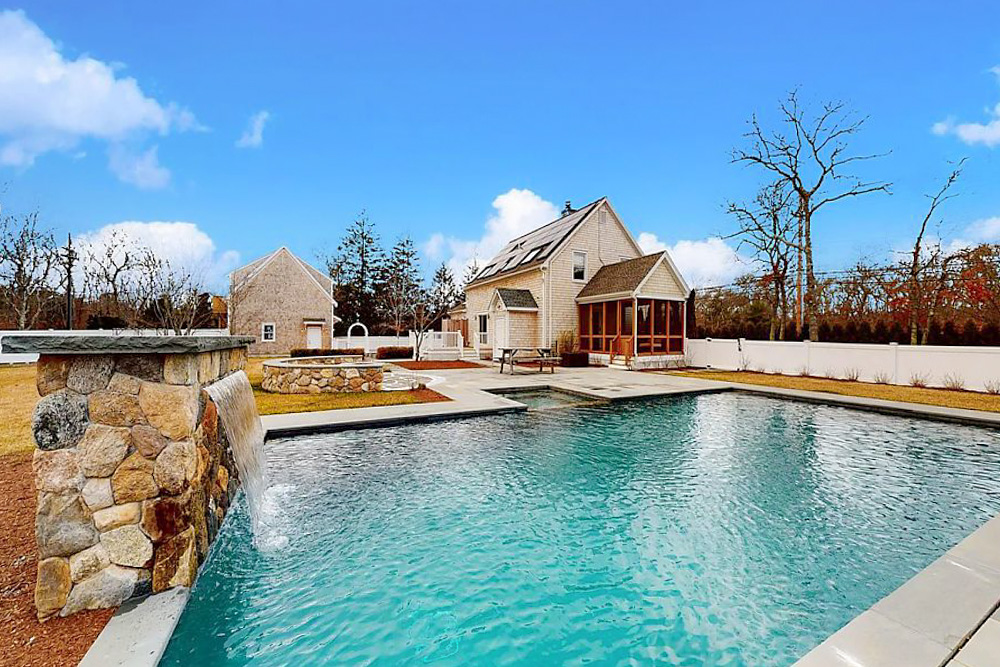 5 Bed | Sleeps 10 | 3 Bath | 1 Half-Bath
Located 4 miles from Oak Bluffs and 5 miles from Edgartown, this exquisite vacation retreat provides room for up to 10 guests across the main house and garage appartment. This spacious home includes several indoor and outdoor entertainment areas, including the massive landscaped backyard with a large private heated pool. Inside you and your group will find five TVs across the bedrooms and living areas, lavish furnishings for a comfy stay, and full kitchens in both the main house and garage apartment. When you want to head out for the day, you'll be delighted to find several shops, restaurants, and public beaches are only a few miles away.
Featured Amenities:
Private Pool
Patio/Terrace
Porch - Screened
Gas Grill
STUNNING TRI-LEVEL HOME, HEATED POOL, SCREENED PORCH, BEAUTIFULLY LANDSCAPED, WALK TO ASSOCIATION TENNIS COURTS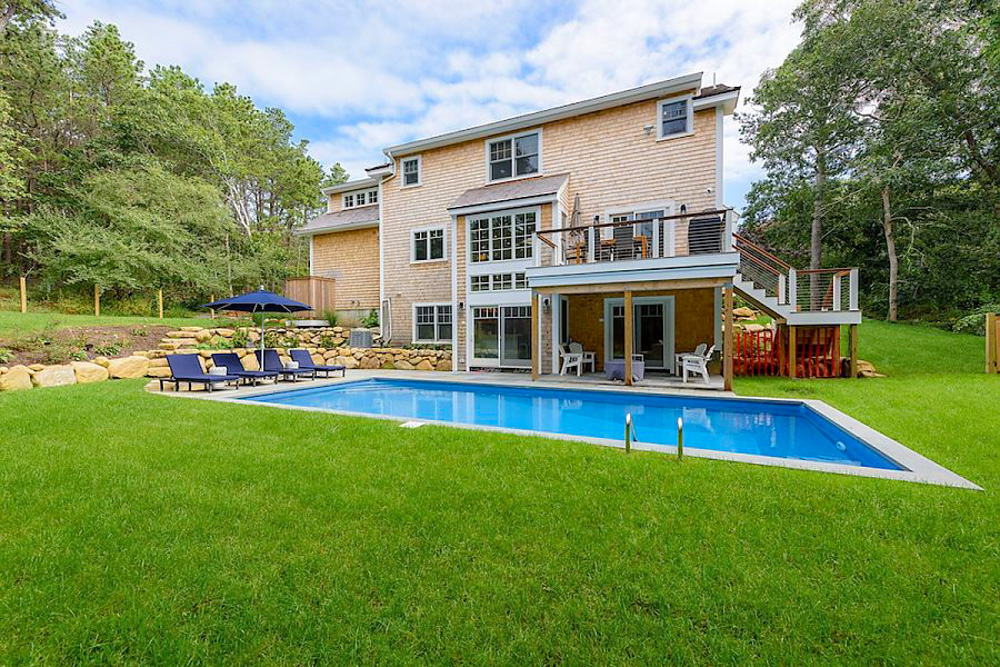 4 Bed | Sleeps 8 | 4 Bath | 1 Half-Bath
Located in the coveted Hidden Cove community, this exquisite tri-level home combines the best of modern luxuries and relaxing seclusion. Up to eight guests can enjoy the home's central location with easy access to both public beaches and the town centers of Oak Bluffs, Edgartown, and Vineyard Haven. If you're a fan of tennis, you can also take a short walk to access the community tennis courts and get in a few games. As for the home itself, you'll find mutliple living spaces, a media room with bar, a chef's kitchen, a large patio, and a private pool area to unwind at during those long summer days. 
Featured Amenities:
Private Pool
Patio/Terrace
Porch Screened
Association Tennis Courts
CLASSIC UPDATED GINGERBREAD COTTAGE, 5 MINUTE STROLL ALONG HARBOR TO BEACH AND TOWN CENTER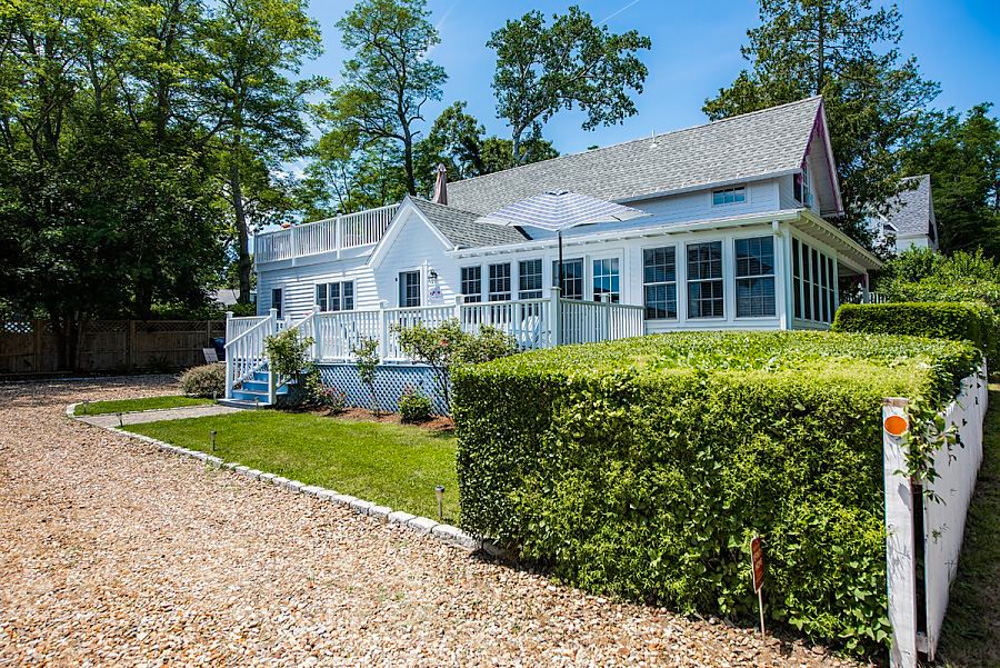 3 Bed | Sleeps 6 | 2 Bath | 1 Half-Bath
This is a classic Vineyard Oak Bluffs Cottage with a tasteful, homey design and comfortable furnishings. Featuring everything you'll need for a special summer vacation, the home includes a well-stocked kitchen, a cozy main living area with a TV, and two large open decks on the the main and top floors. What really makes this cottage stand out, however, is the premium location. You're no more than a short bike ride or walk away from Oak Bluffs town center and the popular Inkwell Beach. If you choose to stay at this summer home, be sure to take at least one sunset stroll along the goregous waterfront route the town center's shops and restaurants.
Featured Amenities:
2 Open Decks
Outdoor Furniture
Gas Grill
Beach Chairs
BEAUTIFUL CONTEMPORARY HOME, DESIGNER DETAILS THROUGHOUT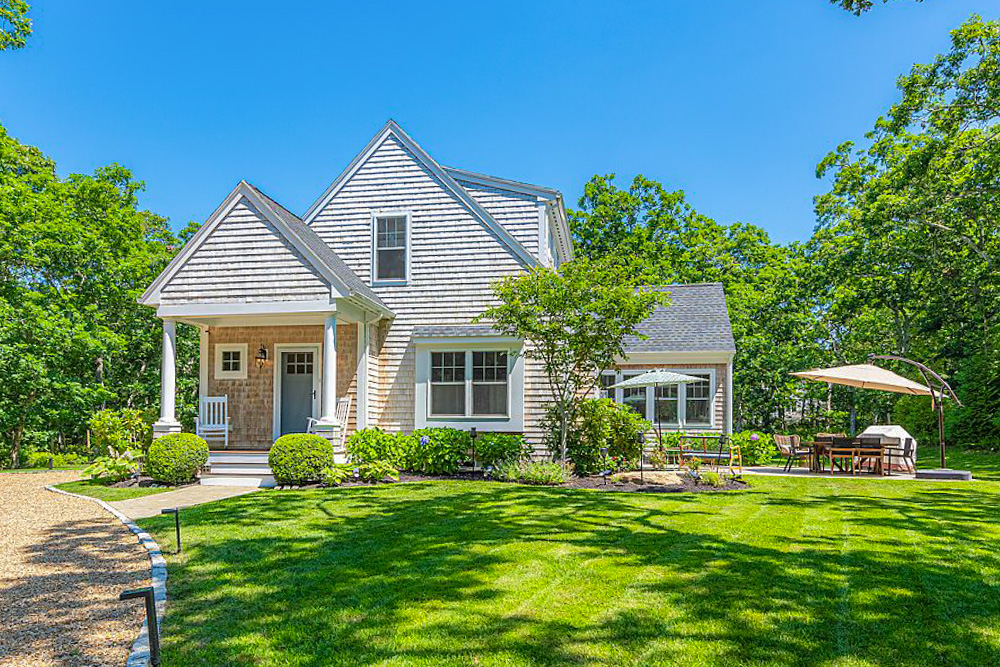 3 Bed | Sleeps 6 | 3 Bath | 2 Half-Bath
This gorgeous summer vacation home offers a great combination of privacy and exceptional access to popular spots in Oak Bluffs and Edgartown. The home is also just minutes away to several beautiful public beaches. At the property, you'll be struck by the wonderful amount of natural light that fills the home, especially the living, dining, and kitchen areas. If you're a fan of cooking and dining in, then you'll love the chef's kitchen complete with prep island and stainless appliances that this home provides. Or, if you want to host a classic summer BBQ, you can use the included gas grill and serve up a great dinner at the patio table and chairs in the spacious landscaped yard. A summer golden hour meal with friends and family out on the patio here will be a memory you'll cherish forever.
Featured Amenities:
Spacious Patio Area
Outdoor Furniture
Beach Chairs
Patio Table & Chairs
EAST CHOP WATERFRONT, EXTRAORDINARY SUNSETS & VIEWS ACROSS THE SOUND, DECK DIRECTLY ON THE BEACH, CASUAL INTERIOR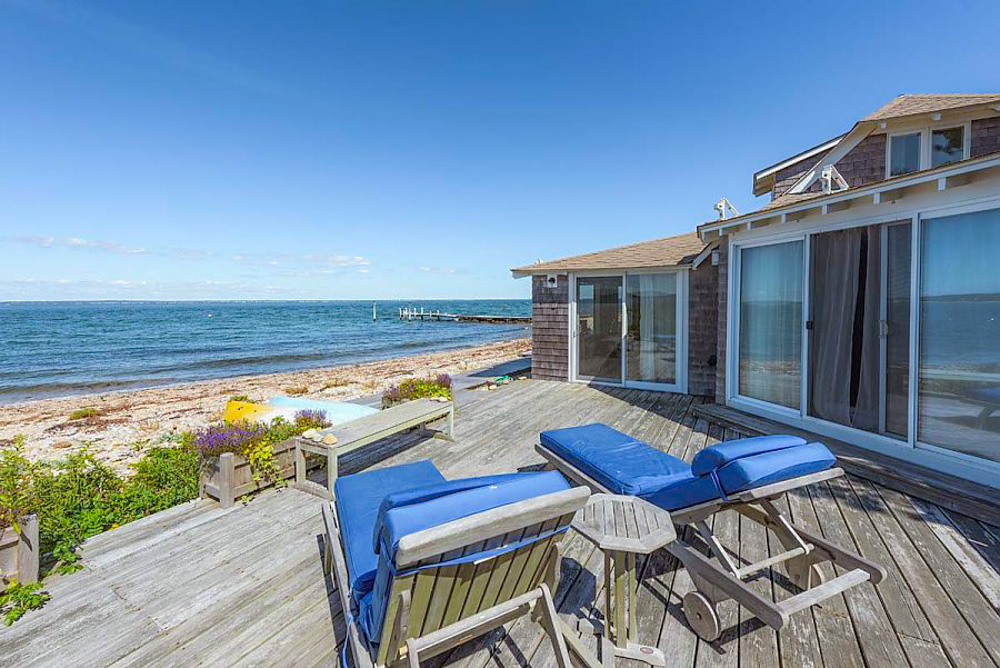 3 Bed | Sleeps 6 | 2 Bath 
This is classic Martha's Vineyard beachfront living at it's finest! Ideally situated in the historic East Chop Area of Oak Bluffs on Vineyard Sound is this charming beachfront cottage. If you like ocean views on your summer vacation, then this home is a no-brainer. You can step right outside to see stunning waterfront views on the outdoor patio furniture, or you can catch great veiws from the first floor "sunroom" that runs along the full width of the house. Inside you'll find classic Martha's Vineyard cottage styling with the comforts of modern amenities. Additionally, the home sits within a few miles of the popular Inkwell Beach and the Oak Bluffs town center.
Featured Amenities:
Beachfront
Sun Porch
Outdoor Furniture
Gas Grill
SPACIOUS LIGHTFILLED HOME, PRIVATE DECK WITH PATIO DINING, LOCATED IN QUIET COMMUNITY OF HOMES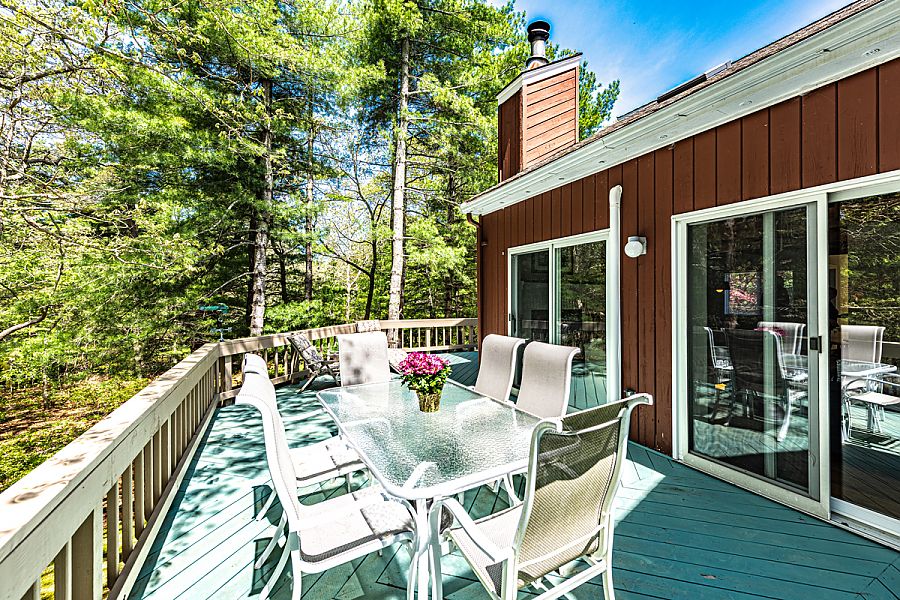 3 Bed | Sleeps 6 | 3 Bath
If you're looking for the best of everything Martha's Vineyard has to offer rolled up into one package, then this might be the vacation home for you. This home is located in a secluded and serene wooded community of Lagoon Estate with convienient access to public beaches, the Lagoon, and the three Down Island towns (Oak Bluffs, Edgartown and Vineyard Haven). Inside the property you'll find a tastefully decorated interior that beams with natural light. The spacious main living room area also opens up to a large private yard complete with outdoor furniture, a patio table with chairs, and a gas grill. To top off the serenity of this location, you'll also have access to a peacefull biking/walking trail that goes just beyond the trees at the end of the property.
Featured Amenities:
4 TVs
Outdoor Furniture
Gas Grill
Spacious Deck
GORGEOUS WATERFRONT HOME ON THE LAGOON OAK BLUFFS, KAYAK, SWIM, ENJOY THE SUNSETS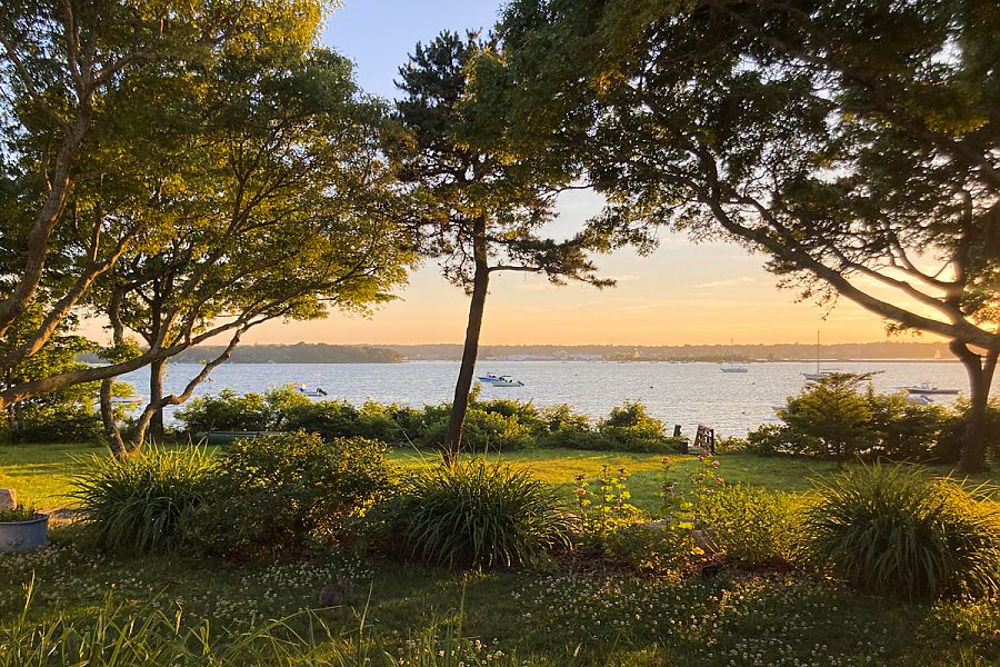 4 Bed | Sleeps 8 | 4 Bath | 1 Half-Bath
Located just one mile from the Oak Bluffs town center and beaches is this stunning waterfront home. The big attraction here is the home's 150 feet of private lagoon beach with perfect access for swimming, kayaking, or just soaking in a pretty sunset. Inside the spacious summer rental you'll find comfortable furnishings and pleasant, coastal-inspired décor. Throughout the dining area and main family room there are also plenty of large windows from which you can further enjoy the lovely waterfront views.
Featured Amenities:
Waterfront Lagoon
Outdoor Furniture
Patio/Terrace
Gas Grill
Edgartown Summer Vacation Rentals
STUNNING LUXURY HOME, HEATED 18 X 42 GUNITE POOL, SPECTACULAR YARD & PATIO AREAS, IDEALLY LOCATED WITH A 10 MINUTE WALK TO VILLAGE, 7 MINUTE DRIVE TO SOUTH BEACH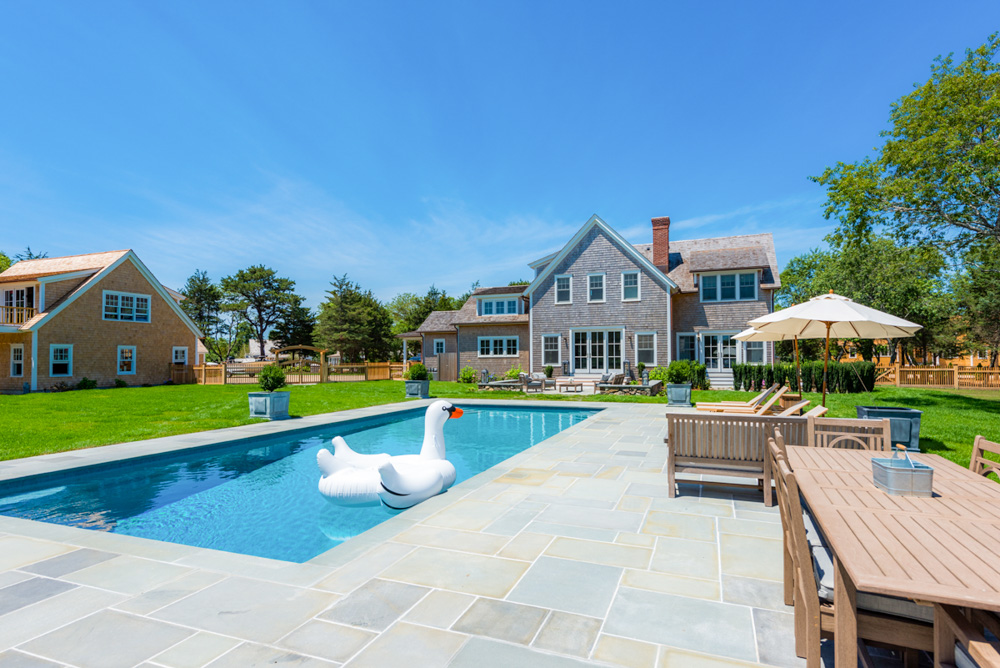 5 Bed | Sleeps 9 | 5 Bath | 1 Half-Bath
This is a newer home with a coastal-style farmhouse design that's meant to complement the area's natural landscape. Within the luxury home you'll find high-quality, comfortable furnishings, a Gourmet Chef's Kitchen, exceptional dining and living areas, and breathtaking interior design throughout. All that, and you can enjoy the spacious backyard complete with a large private pool and plenty of outdoor furniture that makes for a perfect spot to relax during warm summer afternoons. In addition to the top-tier features of the home itself, you'll love the convenience of being only six blocks away from Edgartown Village Center. Basically, if you're looking for the ultimate combination of luxury, space and convenience in Edgartown, then this is the vacation home for you.
Featured Amenities:
Private Pool
Patio/Terrace
Patio Table & Chairs
Beach Chairs
STYLISH MAIN & GUEST HOUSE WITH HEATED POOL, 10 X 16. EDGARTOWN VILLAGE CENTER, WALK TO TOWN, SOUTH AND STATE BEACHES 10 TO 12 MINUTE DRIVE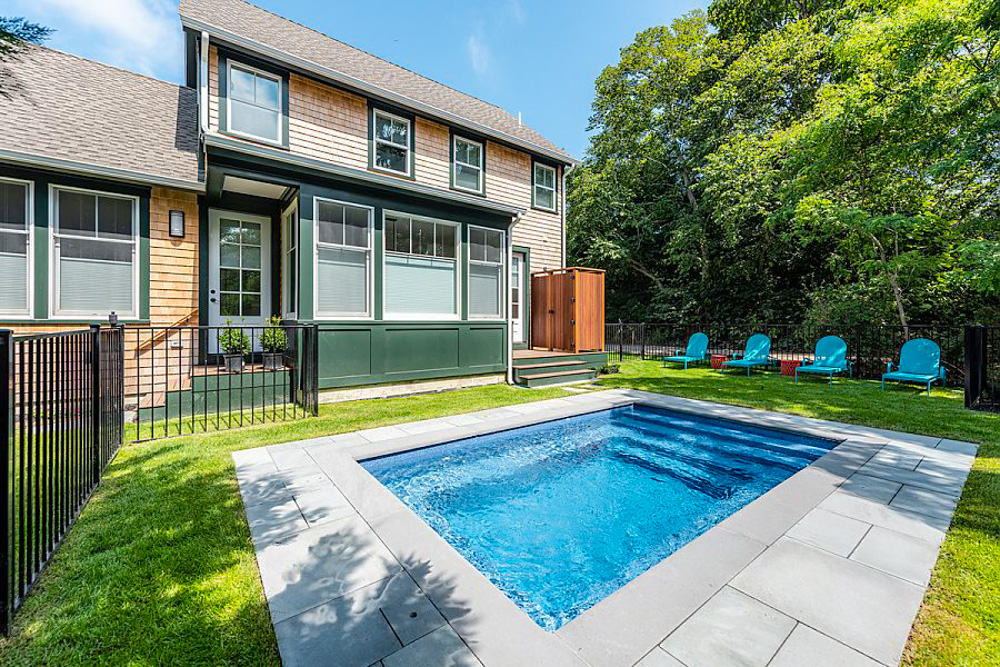 5 Bed | Sleeps 9 | 3 Bath | 1 Half-Bath
Located half a mile from Edgartown Village Center and two miles from State Beach is this lavish property. This large vacation home and guest house offers the perfect package for a summer vacation in Martha's Vineyard. The stylish main house hosts a living room well-lit with natural light, a relaxing screened porch, and a spacious family dining and kitchen area. At the guest house you'll fine another cozy living room as well as its own kitching and dining area. Then, between the houses is the lovely backyard complete with a sizeable private pool a comfortable outdoor furniture. It's a perfect summer retreat for groups of up to nine guests.
Featured Amenities:
Private Pool
Separate Guest House
Patio Table & Chairs
Beach Chairs
BEAUTIFUL CLASSIC EDGARTOWN HOME, HEATED POOL, PATIO SURROUND, GORGEOUS PRIVATE YARD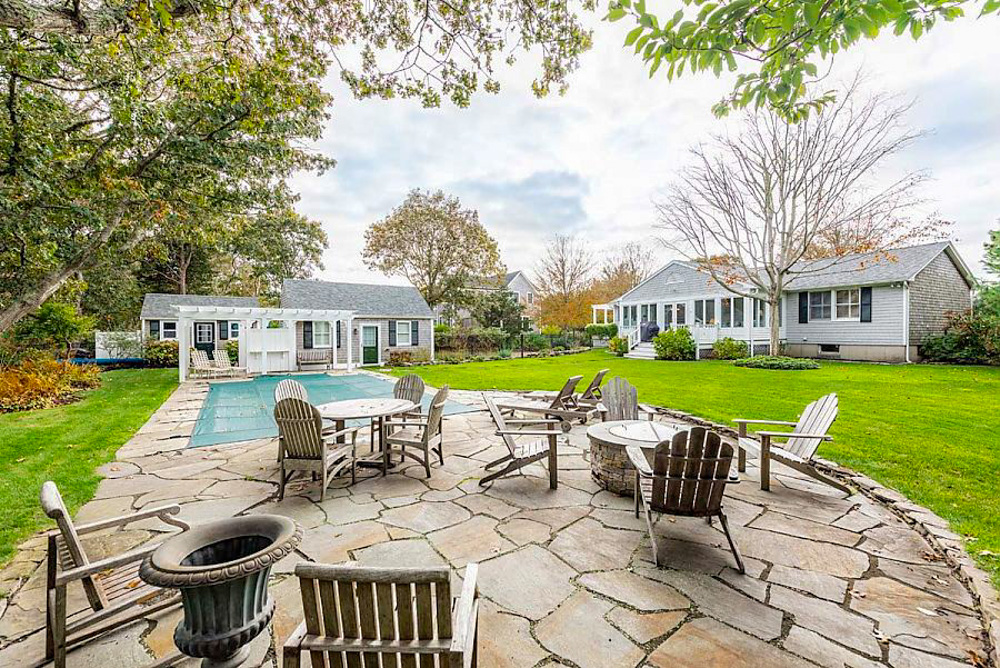 4 Bed | Sleeps 8 | 2 Bath | 1 Half-Bath
Located just on the outskirts of the Edgartown Village area and just a few miles from the South and State beaches is this clarming home with accompanying guest suite. This is another vacation home that's perfect for hosting delightful outdoor BBQs with family and friends. The spacious backyard and pool area provides great space for fun and games. There's also plenty of outdoor furniture, including patio tables and chairs for enjoying meals at home in the golden light of a Martha's Vineyard sunset. Plus, when the sun goes down, you can keep the good times rolling gathered around the backyard fire pit. All that exterior goodness, and the interior brings everything you could need on your vacation, including a sunroom, a chef's kitchen, and a spacious main living room.
Featured Amenities:
Private Pool
Sun Porch
Outdoor Furniture
4 TVs
DISTINCTIVE LUXURY RETREAT EDGARTOWN, HEATED SALTWATER POOL, 36 X 19', PICKLE BALL COURT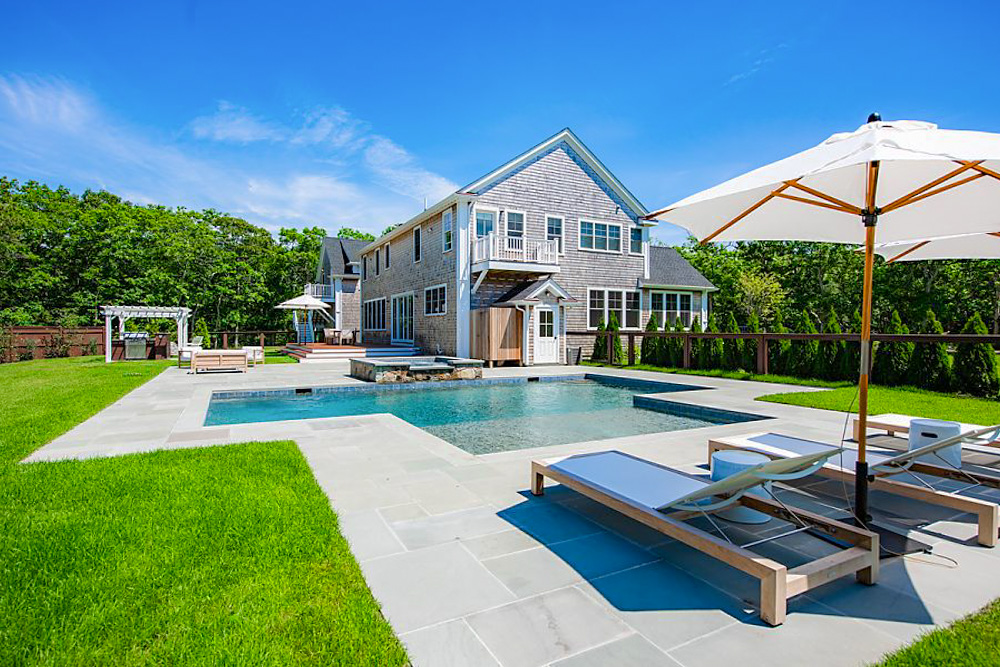 4 Bed | Sleeps 10  | 4 Bath | 2 Half-Bath
If you are looking for a vacation home that's offers everything you could want and then some, then this is the summer rental for you. Not only does this large and luxurious Edgartown home come with a massive backyard and private pool, but there's also a pergola with grill and mini fridge, patio dining with room for 10, and a full pickleball court. Plus, the interior of the home is custom designed to both drop jaws and more than comfortably house up to 10 guests. The home is so grand and extraordinary that you may wish to spend your entire vacation here without venturing off the property. If you do manage to pull yourself away from this beautiful home, then you'll find the lovely boutiques, galleries and restaurants of Edgartown Village just two miles away. Beaches on the North and South Shores will also be jaunt drive away. 
Featured Amenities:
Patio/Terrace
Private Pool
Beach Chairs
Gas Grill
SOPHISTICATED, CONTEMPORARY VACATION RETREAT, HEATED POOL, OUTDOOR LIVING AREA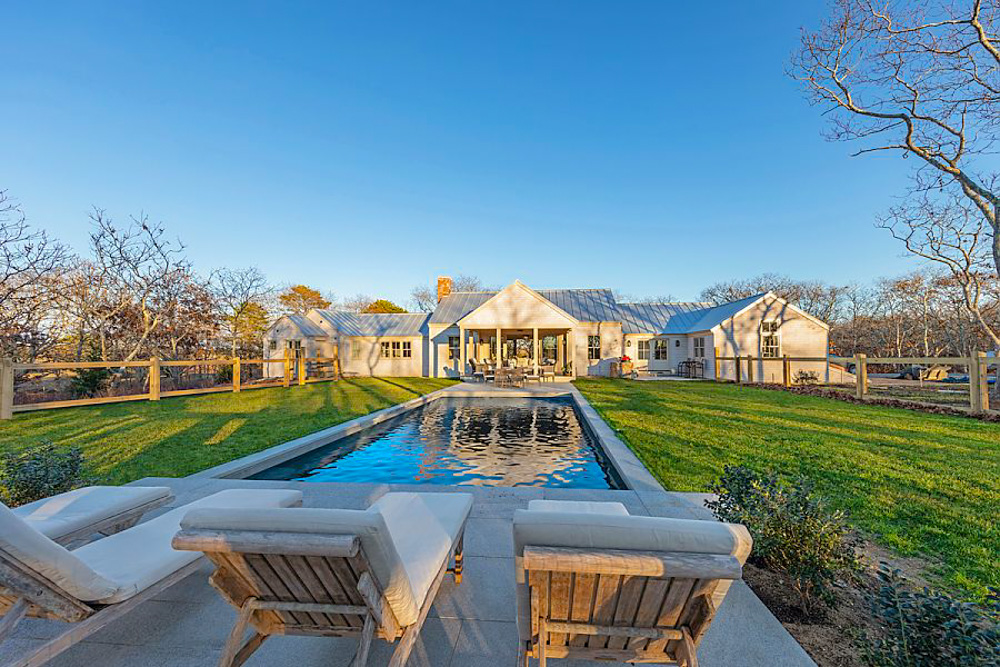 3 Bed | Sleeps 7 | 3 Bath
This coastal-inspired luxury summer rental features multiple living spaces, a gourmet kitchen, a large private backyard with a pool, and some of the most serene views of any property around Martha's Vineyard. Just off the poolside of the house you'll find peacefull dappled views of what's known as Jennie's Cove on Watcha Pond. Be warned though. As soon as you catch your first sunset with these magical water views, you'll be hard pressed to find another spot to match the tranquility this home provides just in its backyard. This property also offers short, convenient access to the town centers of Oak Bluffs, Edgartown, and Vineyard Haven as well as several public beaches.
Featured Amenities:
Private Pool
Screened Porch
Waterview
Patio Table & Chairs
STUNNING LUXURIOUS HOME WITH HEATED POOL, LARGE OUTDOOR ENTERTAINMENT AREA, EDGARTOWN, KATAMA LOCATION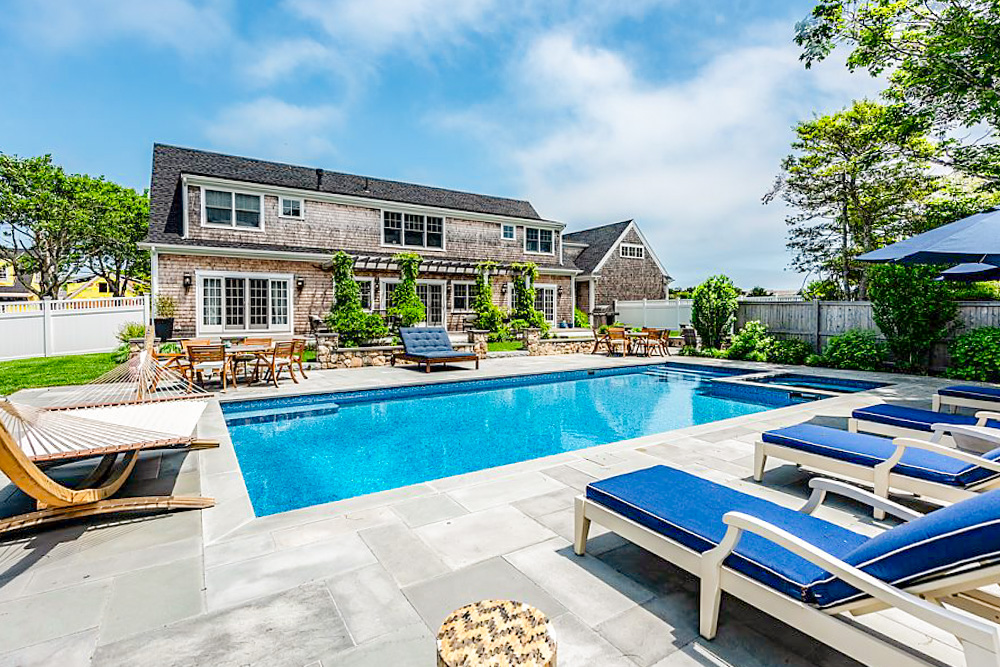 4 Bed | Sleeps 10 | 4 Bath | 2 Half-Bath
This home is the last word in luxury and in-home entertainment. Starting with the interior, the home boasts an open floor plan that includes a large living area with media center, an outstanding chef's kitchen with large center island and breakfast bar, a dining room that seats 10, and a lower level family room with a ping pong table and another media area. Moving to the backyard, you'll find an outdoor summer entertainment area that will take your breath away (possibly more than once). There's a gorgeous heated pool, a large patio complete wiht plenty of outdoor furnishings, a large fire pit, and multiple outdoor dining areas. Within one minute of arrival here, you'll feel the sense that this home was specifically designed to meet and exceed every expectation of what a Martha's Vineyard summer vacation home could be. All that, and you'll be located an equidistance of 1.5 miles to both Edgartown Village Center and South Beach. 
Featured Properties:
Private Pool
Patio/Terrace
Beach Chairs
Outdoor Furniture
GORGEOUS NEW BUILD, CONTEMPORARY FARMHOUSE DESIGN, HEATED POOL, LARGE YARD & LAWN AREA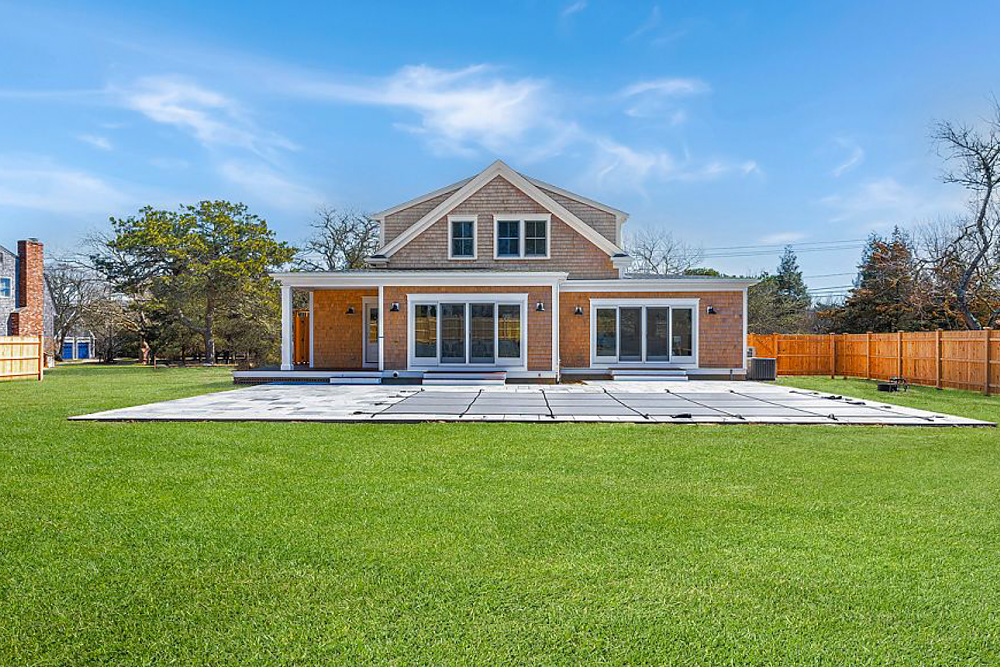 3 Bed | Sleeps 9 | 3 Bath | 2 Half-Bath
This new custom-built Katama area home is ideally situated just one mile from the Edgartown village center and 1.5 miles from South Beach. The luxury summer rental includes a private 14'x30' pool along with an outdoor dining area, a gas grill, and plenty of poolside lounge chairs. Inside the home are two spacious living spaces, each with comfy furnishings and large TVs. The chefs kitchen is also immaculate, with exceptional appliances, a large kitchen island breakfast bar, a farm sink, and beautiful quartz counters.
Featured Amenities:
Private Pool
Beach Chairs
Patio Table and Chairs
Gas Grill